Tutor Groups
Which Tutor Group will I be in?
We have students from twenty-five different primary schools starting with us in September. Your Tutor Group will be made up of students from different schools.
The diagram represents a tutor group of thirty students. Each colour represents a different primary school.
The largest group of students are from Buckingham Primary School. This means that everyone from there will still only know six other students in their new tutor group. More than half of the group will only know one other person.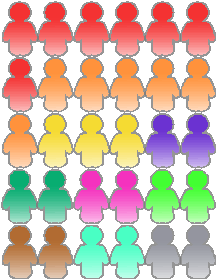 This year we have a handful of students who won't know anyone so we will pair these students together with someone who has similar interests.
At this stage, we do not know whether we will be in position to visit children in their primary schools. However, we are working remotely with Year 6 teachers so they can share the wealth of knowledge and experience of the children with us, so that we can build upon this when they start with us in September.
When will I know who my Form Tutor will be?
As soon as we have created the new Forms, we will let you know. This will be either at an Induction Day or via communication prior to new Year 7s starting with us. We will let children know which House they will be in too!