Buckingham Swan Trail - 24 June until 3 September 2023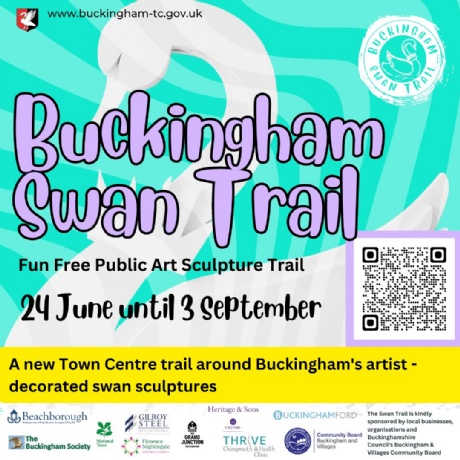 Buckingham Town Council are excited to introduce the second temporary public art sculpture trail which will run throughout the summer holidays of 2023. The Swan Trail is a family friendly, feel-good project that provides a free community led activity for everyone to enjoy! Each swan is kindly sponsored by local businesses, organisations and Buckinghamshire Council's Buckingham & Villages Community Board and lovingly painted by school children, artists, and the community.
To take part simply download the trail map or pick up a free paper trail map from Buckingham Tourist Information Centre, open daily from Monday until Saturday 10am until 4pm . The trail is also available to follow on our community heritage exploration app Buxplore. Swan spotters will then be able to pinpoint which swans they want to see, in what order and where in the town they can be found. This also allows visitors to read more about the artists and sponsors behind the project.