Years 11, 12 & 13: Bucks Skills Show goes online for 2020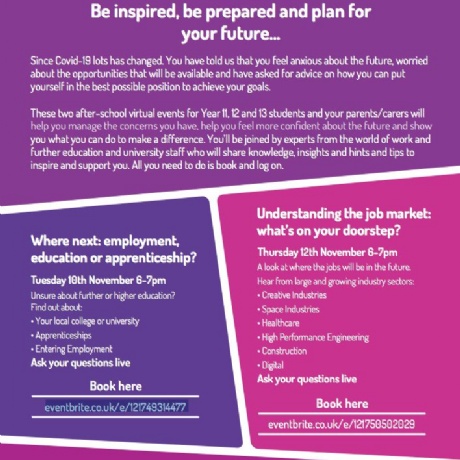 Buckinghamshire Skills Show is going online for 2020 and will be hosting a range of events for students in all year groups.
The annual show helps young people explore careers and work out how to get there – but this year looks different! The exciting two-part event runs from 9 – 13 November and is entirely virtual.
Year 11, 12 and 13 have the opportunity to learn about further education, local apprenticeships and hear from people in the creative, healthcare industries and more. You'll be joined by experts from the workplace and education who can give you tips and knowledge.
Where next – Employment, education or apprenticeship?
On Tuesday 10th November between 6-7pm, join to hear about your local college or university, apprenticeships, entering employment and more. Ask questions live, too. Book here.
Understanding the job market: what's on your doorstep?
On Thursday 12th November, 6-7pm, take a look at where the jobs will be in the future. Hear from large and growing industry sectors:
Creative Industries
Space Industries
Healthcare
High Performance Engineering
Construction
Digital
You'll also be invited to ask any question live – book here to join.
Visit the Bucks Skills Show website for full details. Click here.