World Mental Health Day - Thursday 10 October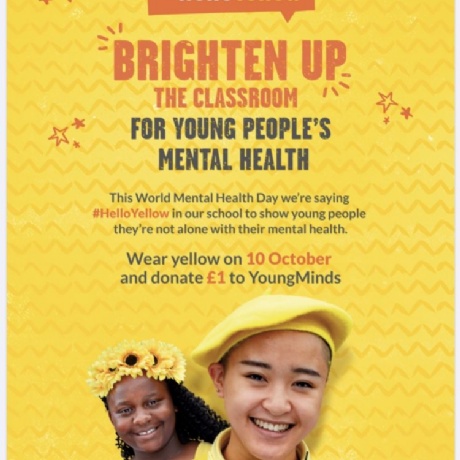 World Mental Health Day is on Thursday, 10 October this year and as a school, we will be supporting Young Minds. The theme this year is #HelloYellow. We will not be having a non-school uniform day, but instead would like to ask that all students accessorise their uniforms with something yellow – perhaps a scarf or a pair of socks, hair accessories, hats, badges, feather boas...the possibilities are endless! The aim is to raise awareness of mental health in young people, encouraging students to talk about their mental health and that of others and to help reduce the stigma around mental health. We are asking for a donation of £1 from each student, with all proceeds going to Young Minds.
There will also be a cake sale in the main hall at break time so if you would like to bake or donate some cakes for this great cause, that would be really appreciated. Please can all donations be brought to the Student Office before 11.00am on the day.
#HelloYellow