Welcome to our Moving Up to The Buckingham School eBulletin, which we hope you and your child find informative.
The content includes a welcome video with talks from our Headteacher and our Head of Year 7, plus a tour of the school. You will find a set of top tips from our current students, information on uniform, links to getting ready for secondary school booklets, and so much more. Also, we have set up a section on our website dedicated to joining us in Year 7. This is detailed below.
Watch our welcome video, including video messages from the Headteacher, Deputy Head and Head of Year. The video also includes a virtual tour of your new school.
Top Tips for Year 6 children moving up to The Buckingham School
Starting secondary school is a significant milestone in your life. It is an exciting time, yet can be a little daunting at the same time. Our students understand it too, because they've been through it themselves. Here's some student top tips and advice to help you practically, socially and emotionally.
Click here to find out what our students say.
Also, see the website for a booklet for parents and children to share and read together. Click here to explore more.
Getting to know your child
As part of the transition process, we gather as much information about the children starting with us. We talk with Year 6 teachers, primary SENDCos, and under normal circumstances would meet all children at their own primary school setting and again at our two day Induction programme.
Our Friendship Form also gives children the opportunity to tell us in their own words, what their strengths and interests are, what they are looking forward to and to name a few students who are also moving to The Buckingham School in order that we can create tutor groups. In cases where a child is the only one from a school, we partner them up with children with similar circumstances and interests.
If you have not yet returned your Friendship Form and Admissions Forms, please can you do so with some haste.
We have included below a set of downloadable pages your child might wish to complete. Click on the links to view/download/print.
How are you doing with the practical challenges set?
It would be lovely to see photos of the challenges you have completed. We would also like to share them on social media. Parents/carers: by sending in photos, you are giving permission to use them across our social media platforms, unless you explicitly ask us not to.
Please send photos to tbstransitionstars@buckinghamschool.org
Follow us on Social Media
#WeAreBuckinghamSchool
#ProudToBeBuckingham
#Buckingham
Stationery Equipment
All students should have a school bag with them every day containing a pencil case with the following items.
School Planner
Black/Blue/Red/Green Pens
Pencils
30cm ruler
Eraser & pencil sharpener
Scientific calculator
A reading book
Maths set including compass & protractor
Glue stick & Highlighters
School Uniform
As we want everyone associated with The Buckingham School to be proud of its achievements, we believe that a visual sense of belonging to a community is important, and, to this end, we require that school uniform is worn by our students. Parental support is vital in this and we hope that the uniform is both practical and reasonable.
To view the uniform list and price list, click on the button below.
Uniform supplier, T Kings, is open for business but their shop cannot be, due to not being able to meet social distancing guidelines. They are happy to take orders through their website and if you would like to speak to a member of staff about your purchase then they are very happy to take telephone orders.
www.tkingassociates.com
Telephone 01280 824836
School Houses
The Buckingham School's House system gives a real sense of belonging, and it allows students to develop important and personal relationships. Every student is assigned a House. The House system creates competition, promotes good work and behaviour, encourages teamwork, provides opportunities to take on responsibilities and brings everyone in the school together.
Each House has its own identity and its own House colour, this is symbolised by each House having their own House tie which clearly maintains the school colours and logo, but also highlights and shows which House each student represents. Each House also has a Head of House and their brief is to instil belonging and pride in the Houses, extending our House competitions far beyond the Inter-House sport that already takes place.
Our Vision underlies everything at The Buckingham School. We want children to achieve the highest possible standards, be challenged and enjoy their school experience. This underpins all that we do, whether in the classroom, on the sports field, in concert, on stage, or in the extensive range of other opportunities we offer our students at all stages of their education.
As a school, we aim to develop our students to be successful in all that life in the 21st Century offers. Our curriculum is designed to achieve this by being broad and balanced, as well as offering students deep and rich learning and enrichment experiences that are all underpinned by our School Virtues.
We developed seven Virtues that we particularly cherish and seek to embed in our students:-
AMBITION, CONFIDENCE, RESPECT, EMPATHY, RESILIENCE, INTEGRITY AND CURIOSITY.
Student First Team
The Student First Team provide an all embracing service for our students, working together to develop and maintain their social, emotional, mental health and wellbeing.
The team, all of whom have a wealth of experience in their own areas of expertise. The aim is to always put students first and offer them support and guidance, as well as providing necessary support for parents and carers. We also refer to and work with organisations who provide additional support for young people and their families when necessary.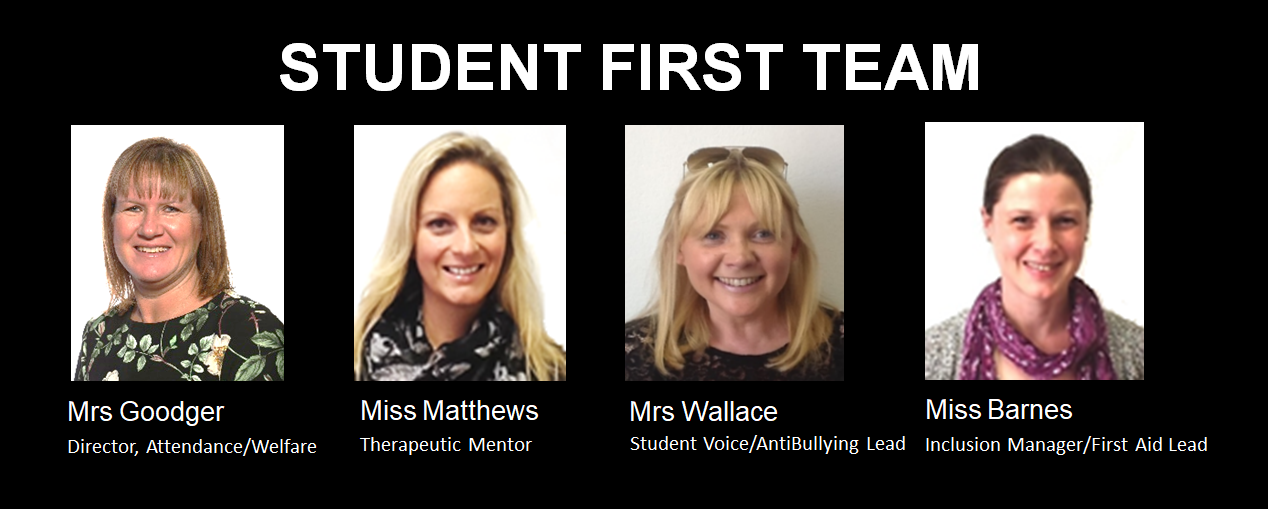 To read the Student First Team leaflet, please click here:
Communicating with parents is an important part of what we do, making sure you get the correct information about school news, activities and things that really matter is something we care about.
Our chosen communication platform is ParentMail and is used not only to communicate with you but is also the portal for purchasing items from school and paying for school trips.
Registering with ParentMail is very easy! You will have been sent either an email and/or text message from ParentMail, when you receive this please just follow the instructions in the message.
Please be assured that ParentMail is registered with the Information Commissioner and guarantees that all information you provide will be kept private and will not be passed on to any other organisation.
Once registered, if you have an Android or Apple smartphone, we would highly recommend you download the ParentMail App for the best user experience. To do this, simply search for "ParentMail" in your App store.
If you need any additional information or assistance, please visit the help site: www.parentmail.co.uk/help/parenthelp/ or if you have not received any contact from ParentMail within 7 days please contact Kate Bones, Admissions Officer, at kbones@buckinghamschool.org.
As you are already aware, all students joining The Buckingham School Year 7 in September 2020 will have the opportunity to purchase their own Chromebook, for use in lessons and out of school, to extend their learning. Consistency is a prime consideration in the successful implementation of a digital scheme, therefore all students will have the same device and have safe and secured access to our network. Planned and resourced support lessons are in place for students to learn how to use their devices effectively.
The Buckingham School, converted to Google over three years ago, using GSUITE and Google Classroom. Our staff are using google Apps to teach and set extended learning; they are also qualified Google Certified Educators. We remain committed to providing the best education possible for our students, and this includes ensuring access to resources which will support learning and develop the skills needed for future education and employment.
We have a section on our website dedicated to Chromebooks, please click here to learn more.
A communication regarding Chromebooks and the purchasing scheme will be sent to you next week and will include details about when the ordering Portal will open, when the first payment is due and when the Chromebooks will be delivered to the school. There will also be information for parents of students who are supported by Pupil Premium Funding, on how this can be used to assist with payments.
As ever, if you have any questions or queries in relation to Chromebooks, please contact us at chromebooks2020@buckinghamschool.org.
Who to Contact
If you have a query or question regarding your child's transition from primary to secondary school, please in the first instance contact Kate Bones, Admissions Officer at kbones@buckinghamschool.org
Mrs Bones will be able to assist you or direct you to one of the Transition team.
The team consists of:-
Mr Wardle, Deputy Headteacher
Miss Keeping, Head of Year 7
Mrs Goodger, Director of Welfare & Attendance
Mrs Baxter, Assistant Headteacher & SENCo
The school website has a wealth of important and useful information, so please take the opportunity to look around.
Additionally, we have created a dedicated section 'Joining us in Year 7', which includes information and resources to hopefully help with your child's transition from primary to secondary school.
LATEST NEWS: from www.buckinghamschool.org
What's happening on social media
WE LOOK FORWARD TO SEEING YOU ALL VERY SOON!
facebook: www.facebook.com/thebuckinghamschool
Instagram: @thebuckinghamschool
Twitter: https://twitter.com/TBS_Information
Success for All through Achievement, Challenge & Enjoyment
The Buckingham School, London Road, Buckingham MK18 1AT
Tel. 01280 812206 Email office@buckinghamschool.org
www.buckinghamschool.org