The Curriculum at Key Stage 4
Our Key Stage 4 curriculum offers students flexibility and choice through a guided structure. It recognises that every student is individual, with different needs, abilities and talents. We believe that students should follow their interests and the subjects best suited to their abilities and offer a wide range of subjects to meet this, as well as offering thorough advice and guidance within our options process. Alongside the core subjects of English (Language and Literature), Maths, Science, Core PE and Personal Development (PSHE and Enrichment at Year 9), students are given the opportunity to select four option choices from the following:
Art GCSE
Business Studies GCSE
Computer Science GCSE
Dance GCSE
Drama GCSE
Food Preparation and Nutrition GCSE
Media Studies GCSE
Music GCSE
PE GCSE
Photography GCSE
Psychology GCSE
Separate Sciences (3 GCSEs)
Business BTEC
Construction BTEC
Health & Social Care BTEC
Performing Arts BTEC
Sports Leadership BTEC
ASDAN
We are proud of the variation within our curriculum offer at Key Stage 4 and believe it offers students every possibility to achieve within an area they enjoy whilst being challenged whilst ensuring that they are able to access future pathways in the areas of employment, further education or training.
Year 9
This will be the curriculum model for all Key Stage 4 year groups from September 2021 onwards. We believe that it is broad and balanced and will offer students depth as well as breadth in their learning experiences.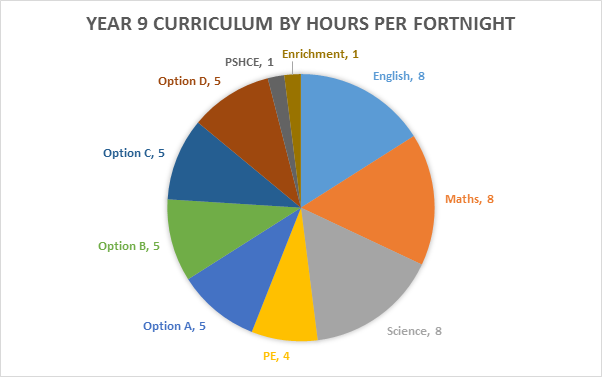 Years 10 and 11
Our current Year 10 and 11 students have had a curriculum model where the option subjects have had varied time over the course of three years. For example, option A may have received 2 hours a week in Year 10 and then 3 hours a week in Year 11. For this reason, students will continue with this model during these two years but it will be phased out to become the model seen for Year 9.