Hartridge Ltd Donates 26 Computer Tablets to the School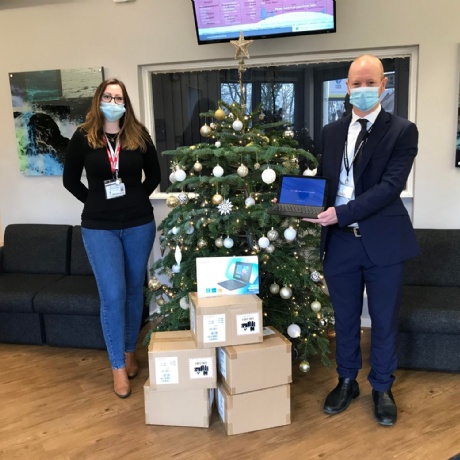 The Buckingham School would like to say a MASSIVE 'thank you' to Hartridge Ltd in Buckingham for their extremely generous donation. This morning, Rebecca Knight, Hartridge Ltd's Global Brand & Communications Manager, delivered to the school 26 brand new computer tablets. Their generosity is amazing and we feel extremely privileged to accept the donation. The computer tablets will be an invaluable resource to support our students learning, especially in the face of the challenges Covid-19 has presented.
Hartridge Ltd has celebrated its 90th anniversary in 2020, and has been in Buckingham town since the 1940s. The company creates vehicle testing solutions for all aspects of the service industry, and the Hartridge name and iconic blue machine colour are recognised all over the world. In 2020, Hartridge were part of one of the largest mergers in their industry's history and are now part of BorgWarner. Rebecca Knight, Global Brand & Communications Manager commented, "Being a part of the local community in Buckingham is a key part of who we are and we always seek to donate to and support local causes."
You can find out more about Hartridge Ltd from their facebook page @HartridgeLtd or their website www.hartridge.com
Once again, thank you so much, your overwhelming generosity and community spirit is amazing!